Ladies Bra
While wearing a non-padded bra, place the measuring tape around the rib cage, directly under the bust.
The measuring tape should be snug and held parallel to the floor.
Note the measurement in inches, and round it off to the nearest whole number.
If the number is even, then add to it and if the number is odd, then add
The sum is your band size.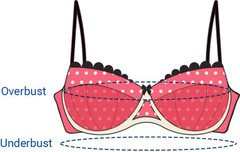 Place the measuring tape over the fullest part of the bust while holding it parallel to the floor.
Note the measurement in inches and round it off to the next whole number.
Subtract the band size from the bust size to calculate the cup size.
Bust Size - Band Size = Cup Size.
Cup Size

A - 1 inch
B - 2 inches
C - 3 inches
D - 4 inches
Example: If Band Size = 32 inches and Bust Size = 34 inches then Cup Size = 34 - 32 = 2 inches which corresponds to a B cup.
Suggestions to ensure you pick right
Check your bra size every 4-6 months.
The fit should not be too tight or loose.
The bra cups should properly cover your breasts from the front as well as the sides.
The bra band & centre gore should rest flat on your body without being too tight.
The back of the bra should be level with the front.
You should be able to slide only one finger underneath the band.
New bras should fit perfectly when secured on the outermost hook. As it loosens over time, the band can be made taut by moving towards the tightest hook.
There are bras that open at the front also, if you find it uncomfortable to reach behind.
| | |
| --- | --- |
| Size | In Cms |
| 32 | 80 |
| 34 | 85 |
| 36 | 90 |
| 38 | 95 |
| 40 | 100 |
| 42 | 105 |
| 44 | 110 |